U could give me a good tit fuck in that cleavage and i would deposit a big load on those beautiful nipples.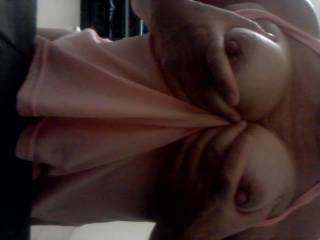 Kiss them, suck them, pinch them, bite them, lick them, smack them, pull them, grip them, hold them, rub them, fuck them.
 Massage them both all over with my warm stiff cock. Left, right, up and down around in circles til my clear pre cum is dripping from your nipples. Both.Of them too! When you caress and touch them and your nipples, does your cunt clench, get wet, does your clit throb and get hard, do your tits swell and get heavier? Would you come just by touching yourself? Beautiful tits and nipples. Both over and again, but I have seen how cute your bum is in the pics, I have to bite that too you know. Not like I could resist it. Does it have to be either or? Because I really wanna do both, and much more. Your tits are bloody fantastic. Xxx. I would love to suck on them first, then fuck them with my cock that you made rock hard with being so damn sexy.